Friday,

December 15, 2023
at 7:00 PM, doors open at 6:30 PM
Saint Paul's Parish
The Episcopal Church in Malden
26 Washington Street, Malden, MA 02148
Ring In The Holiday Spirits
Rebecca Harrold and Santon present the
"Ring In The Holiday Spirits" concert in the gorgeous Saint Paul's Episcopal Parish, Malden MA, which has amazing acoustics!
Enjoy the variety of music in this concert: classical piano, classical piano & violin duets, original compositions by each musician, and familiar holiday songs.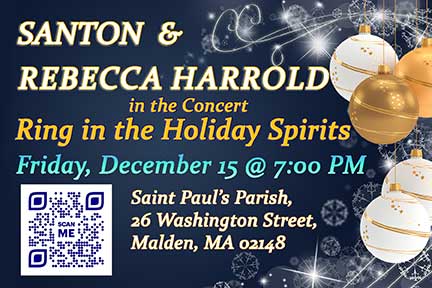 Please buy your tickets early for a discounted price ($25 – $40) with no service fees!
The Early Bird sale ends November 30th, 2023.
Tickets at the door will be sold at $50.00/ each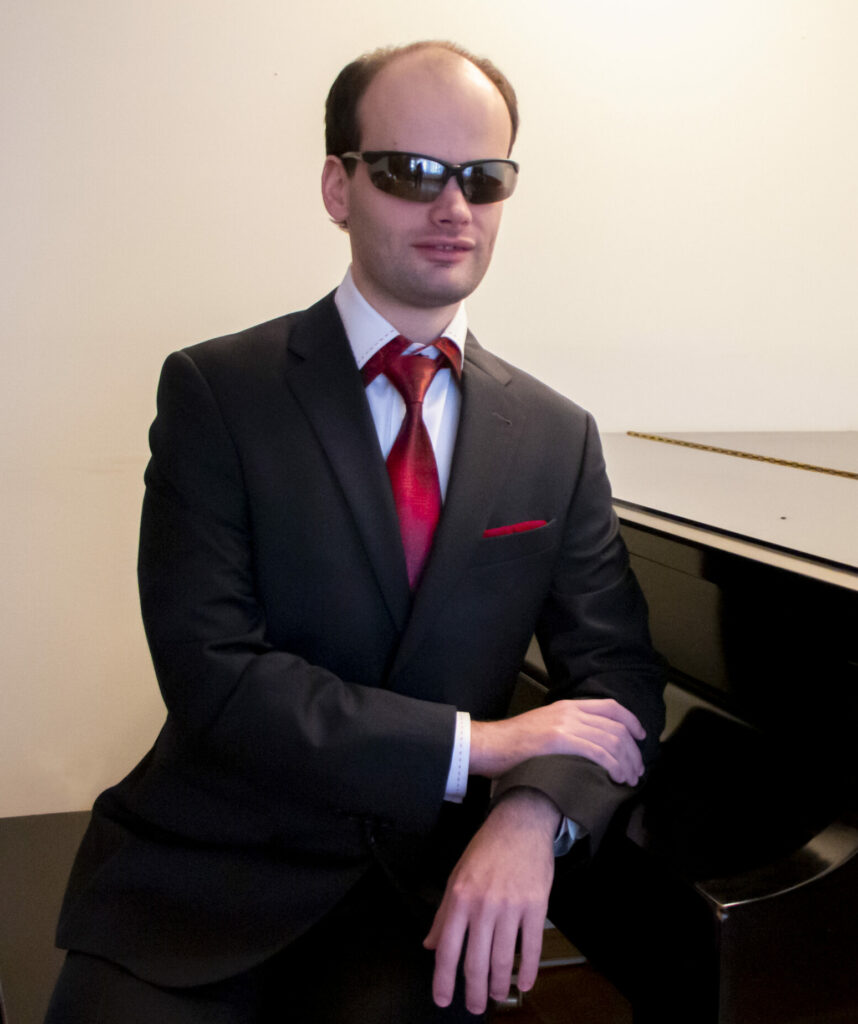 Santon is an award-winning musician, who is fully blind from birth and autistic. He was born in 1991 in St. Petersburg, Russia, and grew up in Malden, Massachusetts. He is an alumnus of the world-renowned Perkins School for the Blind.
In 2014, Santon graduated from the Berklee College of Music, summa cum laude.
Santon plays piano, violin, bandoneon and several other instruments in many different genres: classical, jazz, tango, and more. He also composes his own music.
Santon won several awards for musicians with disabilities, the most recent being the 4th Danny Awards this year for his own composition entitled Energy Fountain Rag.
Santon performs as a solo pianist, accompanies singers, and plays piano in the Boston Tango Orchestra. He produced 2 albums: "Flavors of the Rainbow" – solo piano classical favorites, and "Night Animals" – CD Collins & Santon duet of spoken word with music.
Rebecca Harrold is a pioneering artist who strives to coalesce musical genres by crafting achingly beautiful melodies with lush chords all within a popular song structure. She is an exquisite pianist, beautiful singer and astonishing composer.
Rebecca has played a crucial role over the years in a variety of notable productions ranging from her birthplace of Cleveland, Ohio, and spanning across the world to her current home of Bentonville AR.
Over the years working with the Boston Ballet, she directed in a variety of music productions in Massachusetts. She has played principal pianist in "The Baker's Wife" working directly with the composer and lyricist Stephen Schwartz and performed with Bobby McFerrin for a locally produced TV show (WGBH "Basic Black" series)
Her debut CD, "The River of Life" received high acclaim and numerous awards. Rebecca has now moved on to the next phase of her already full musical endeavor by adding her sophomore release "The Tree of Life".